Construction Waste Clearance in London
Bricks and rubble - the Junk Removal Monster's crackers. Construction waste is the monster's favourite afternoon snack. No wonder he lights up when a construction waste clearance is on the horizon.
The construction waste clearance has its own peculiarities which makes it a difficult job for a non-professional. The metals, rubble, plasterboards, muck and all other construction debree are something we are familiar with and know how to get rid of efficiently and in the proper manner.
Construction Waste Clearance - High-End service at an Affordable price
The Junk Removal Monster is a stretchy creature which can reach to the top of the of quality service and at the same time to the bottom of the service price. This is not an easy job and requires special powers, hence why not many concurrent Commercial Waste Clearance companies can brag about that. 
Through the years we've worked hard to create services affordable to all and with constant in-house training and ever improving work methods we provide competitive prices.
In details providing high-end commercial waste clearance in London includes the use of professional tools and experienced staff. What the Commercial Waste Clearance Team does is to assess the situation on site, give you a final price and get to work upon your confirmation. The construction waste clearance is performed efficiently.
To ensure your safety special rubber sheets are used to protect the cleanliness of your home. Special footwear is also being used for the same purpose. After all commercial waste is cleared from your property and loaded the team will sweep the floors, leaving you not much to deal with.
A transparent pricing system is being applied to all services and customers. The Construction Waste Clearance does not make an exception. This is a primary rule of mutual respect and customer satisfaction.
Most of the time the price you pay is per weight of the construction waste and includes only the exact weight whether it is a small or really bulky clearance. Rarely for some particular wastes and for extra labour you may be eligible for an additional charge, but rest assured you will be advised in time. For any questions you might have, feel free to call us anytime, our hotline is open 24/7!
We have satisfied thousands of households with our rubbish removal services. You can as well order Regular construction waste clearance or commercial cleaning services, depending on your needs and preference.
Waste Transfer Notice - something any Londoner needs after a Construction Waste Clearance
We provide Waste Transfer Notice, in compliance with the current legislation, you will need to keep this as proof of how you disposed of your waste. In case you don't have such a document you may suffer significant penalties - just another reason to choose the certified Commercial Waste Clearance by the Junk Removal Monster.
Book Your Construction Waste Clearance Now!
Contact the kind Junk Monster customer care representatives today at 020 3404 5414 or fill in the Booking form to learn how we can help you.

See how much we have charged for rubbish collection on the pictures* below: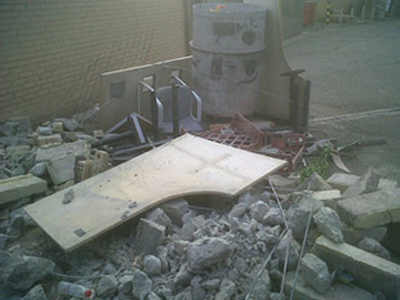 2 rounds charged £300 per round plus additional labour £100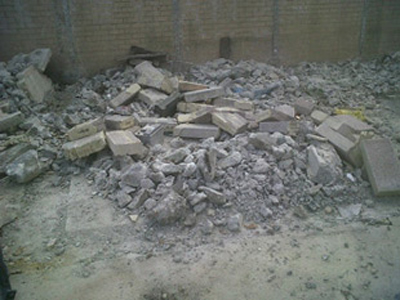 charged £360, 2 men, labour included

*- pictures taken by our customers, helping us to evaluate what the total cost for the junk removal is likely to be