Professional Rubbish Clearance by Junk Removal London
Junk Removal is a professional rubbish clearance company operating on the territory of London.
For over a decade, Junk Removal has been London's premier rubbish removal provider. If you got old furniture you want removed, we can come and take it away in a quick and efficient manner. You need complete house clearance, we can do that, too! Just call us on 020 3404 5414 and let us take that load off your mind.
Our services include:
Rubbish Removal
House Clearance
Office Clearance
Builders Clearance
Loft Clearance
Furniture Disposal
Garden Waste Clearance
You can rely on us for any rubbish collection job that doesn't include hazardous waste. From old furniture and appliances to construction waste and garage items, we will take it all.
How Our Rubbish Removal Services Work:
Why Choose Our London Rubbish Collection Services
Attention to detail, speed and affordability is what describes us best, and what has made us London's first choice in rubbish clearance.
Since our establishment in 2003, we slowly but steadily expend our service packages and service area to meet the waste disposal needs of thousands of people and businesses. Now, we cover the majority of London, and provide a wide range of affordable and reliable junk removal services that each and every resident of the capital could take advantage of.
A team of experienced and well-trained specialists is always available to whoever needs professional rubbish collection. You can book your service at any time for any day of the week, even weekends! Late appointments available!
You care about the environment? So do we! At Junk Removal we are dedicated to efficient and smart rubbish removal in order to minimize the environment pollution as much as possible. We make sure all the waste/items are properly disposed of. By trusting a professional rubbish removal company, you make good on you and the environment as well.
Another benefit that worth mentioning is the competitive prices we provide. What more to want? You will save money, and will have your junk safely removed.
Take a look at the reviews on our Google+ page if you need a confirmation of our words.
Junk Removal London provides professional, cost-effective and environmentally friendly rubbish clearance services for residential and commercial properties in London. With clean vans, uniformed staff, easy pricing and high standard of customer service, we make it easy for you to get rid of any unwanted junk or items.
Book Your Rubbish Clearance Service Today
Give us a call today to learn more about professional rubbish collection services. On 020 3404 5414 you will receive a free, no-obligation quote. You can also book a service by filling our Book Online form. We assure you that a member of the team will get back to you as soon as possible to discuss your requirements!
NOTE: Rubbish left in similar condition to the one on the pictures below would need preeminently packing in bags or cleaning services done in advance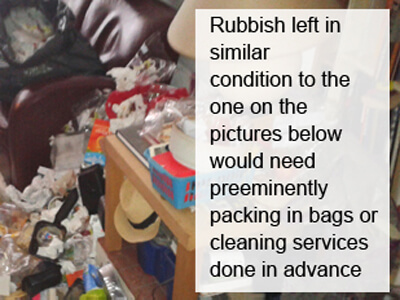 Having the proper knowledge about recycling will help for improving the environment.
Know about the three main factors about recycling – Reduce, Reuse and Recycle; also known as The Three R's.
You should take actions about your waste. Society consumes the natural resource at an unsustainable rate and contribute to climate changes. Did you know that every year households and industries generate more than 100 million tons of rubbish?