Junk Removal in London. High Quality, Full Coverage
"Junk Removal" screams the Junk Removal Monster hungry for some more of that tasty London waste. The Monster is born in a junk collection truck - half rubbish bag, half scary creature it feeds on household rubbish.
Junk clearance is the favourite activity the Junk Removal Monster likes to do every day. Together with the loyal expert team of waste collectors we remove almost any type of rubbish such as domestic and commercial refuse. The Junk Removal Monster company covers all London areas and provide
For over a decade, the Junk Removal Creature has been London's premier waste collection solution. It feeds on the old furniture you want removed, the green waste left after your garden maintenance, those old beat up electrical appliances, builder's bulky waste, household waste and more, but his favourite royal meal is the commercial waste.
Call our customer support center at 020 3404 5414 and receive free no-obligation quote plus any junk disposal information you are interested in.
Professionals Will Do The Junk Removal in London For You
The Junk Removal Monster will munch out almost every type of waste - from old furniture and appliances to construction waste and garage items. But please, don't give the Junk Monster any hazardous or medical waste and be aware it does not like raw food leftovers.
These are the steps we take when we collect your junk anywhere in London:
You may also be interested in feeding the Junk Removal Monster on a regular basis - in such case the regular rubbish collection service is perfect for your needs. Don't be fooled by its name - the waste creature is a very tidy one. Actually, it hates dirty bins, that's why we care for the condition of your rubbish bin by providing our newest Wheelie Bin Cleaning service as well.
Choosing Our Junk Removal Team in London Is a Smart Decision
You surely wouldn't find a better specialist in the waste collection field in London than the Junk Removal Monster and its team of highly skilled and experienced junk collectors. It's got attention to details, speed and affordability - everything you need for successful waste removal operation anywhere in London.
Since its birth in 2003, it slowly but steadily made friends and together they expanded the service packages and area coverage to meet the waste removal needs of thousands of customers.
Our rubbish clearance services are now available all around London to help every resident of the capital with any kind of waste disposal.
Book a Junk Removal Service with Us At Any Time of the Day, Any Day of the Week
The Junk Removal Monster doesn't sleep, ever! So neither do the Junk Removal Team and the customer care operatives. Contacting them on 020 3404 5414 is possible 24/7. The team of experienced and well-trained rubbish removal specialists is always available - weekends, bank holidays and early mornings or late evenings!
After the completion of the waste clearance service in London the collected junk is being processed at a recycling center. The price for this is included in the final rubbish removal price we confirm to our customers upon arrival at their property. An approximate price is given on the phone or via a free online quote.
Feed the Junk Removal Monster by booking a Waste Collection Service Today
The Junk Removal Monster and its team of rubbish removal experts are on the line to collect your waste anytime, anywhere in London. Actually, they are ready to answer your urgent needs by using their special powers in order to arrive on the same day in two hours time frame and help you dispose of your domestic junk and other unwanted items.
You get to choose between the standard approach of calling 020 3404 5414 for a rubbish clearance service, using the handy online chat application or directly booking through the booking form.
NOTE: Rubbish left in similar condition to the one on the pictures below would need preeminently packing in bags or cleaning services done in advance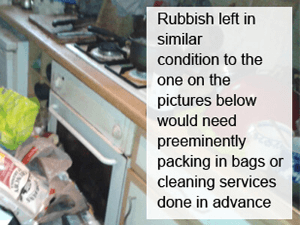 Junk Removal Monster's Recycling Advice
Help the Junk Removal Monster protect the environment!
Having basic knowledge about recycling will help protect the environment. It is advisable to learn the basics about the three main factors about recycling – Reduce, Reuse and Recycle; also known as The Three R's.
Take actions about your waste. Society consumes the natural resources around us at an unsustainable rate and contributes to climate changes. Did you know that every year households and industries generate more than 100 million tonnes of junk?
E-mail the Junk Removal Monster company for a waste collection appointment at [email protected]
For a free quote or more details call 020 3404 5414 and Junk Removal Monster's cool office support staff will gladly help you to determine the rubbish removal service most appropriate to your needs.